Our Services at Chesapeake Home Improvement Group, Inc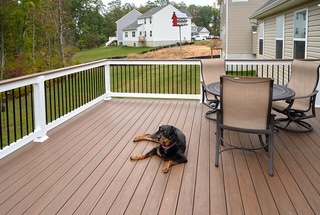 Creating Beautiful Spaces, Inside and Out
Chesapeake Home Improvement Group, Inc offers a comprehensive range of professional home improvement services to enhance the beauty, functionality, and value of your home. With our expert craftsmanship, attention to detail, and commitment to customer satisfaction, we strive to exceed your expectations and bring your vision to life. Discover our wide array of services tailored to meet your unique needs.
A Variety of Sunroom Options & Enclosures:
Experience the joy of indoor-outdoor living with our customizable sunrooms and enclosures. Whether you desire a tranquil space for relaxation or a versatile area for entertaining, our expert team will design and construct a sunroom that seamlessly integrates with your home and lifestyle. We offer a variety of sunroom options to suit your unique tastes and needs.
Decks:
Transform your outdoor space into a stunning oasis with a custom-built deck. Our skilled craftsmen will work closely with you to create a deck that reflects your style, complements your home's architecture, and provides the perfect setting for outdoor gatherings, relaxation, and enjoyment.
Home Renovations:
Revitalize your living space and make it truly your own with our comprehensive home renovation services. From minor updates to complete transformations, our team will guide you through every step of the process, ensuring your vision is brought to life with the utmost care and craftsmanship.
Whole House Remodeling:
Take your home to new heights with our whole house remodeling services. Whether you're looking to enhance functionality, increase energy efficiency, or simply update the aesthetic appeal of your entire space, our experienced team will work closely with you to create a home that exceeds your expectations.
Kitchen/Bath Renovation:
Create your dream kitchen or bathroom with our expert design and remodeling and kitchen/bath renovation services. From concept to completion, we will collaborate with you to create stunning, functional spaces that reflect your personal style and cater to your specific needs.
Windows and Door Replacements:
Upgrade the energy efficiency, security, and curb appeal of your home with our high-quality windows and door replacements. Our team will help you select the perfect options from our extensive range of styles, materials, and finishes to enhance both the interior and exterior of your home.
Authorized Distributor of Eze-Breeze® Porch, Patio, and Garage Enclosure Products:
As an authorized distributor of Eze-Breeze® Porch, Patio, and Garage Enclosure Products, we bring you the best in outdoor living solutions. Enjoy year-round comfort and versatility with these innovative and durable enclosure products designed to protect you from the elements while maintaining breathtaking views.
Experience the Chesapeake Difference
At Chesapeake Home Improvement Group, Inc, we are committed to delivering exceptional results, unparalleled craftsmanship, and outstanding customer care to help you get the whole house remodeling services you deserve. Contact us today at (410) 287-6818 to schedule a consultation and let us transform your home into a haven of beauty and functionality. Trust us to bring your vision to life.